Avanta Ventures is proud to host events at our new Mountain View office, showcasing thought leadership on relevant trends and issues and shaping the dialogue in the community. Our first event on March 27th, 2019 was held in partnership with the Female Founders in Tech program put together by Quesnay. Panelists from Car IQ, Deloitte, and XL Innovate joined us to discuss the convergence and bundling of insurance and financial services to create better customer value. The feedback from attendees was overwhelmingly positive.
CSAA Insurance Group, through Avanta Ventures, is a sponsor of Quesnay's Female Founders in InsurTech competition. As a continuation of its support for women-led startups, Avanta Ventures will continue to host events in 2019 for a startup audience. The program for these events will highlight key developments in the Female Founders in InsurTech 2019 competition and also curate further panel discussions on emerging trends in insurance innovation.
Quesnay is a woman-owned innovation consulting services firm that helps traditional firms and brands accelerate innovation by working with startups. For more information, you can find them on Twitter or at their website here.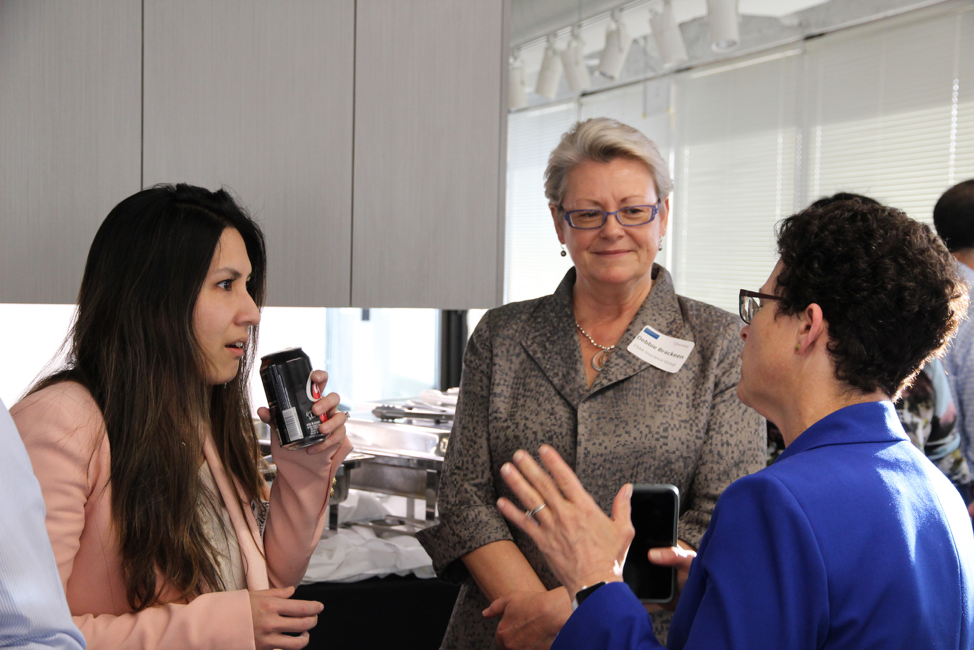 For those who missed that event, there are three more upcoming events that you can register for online:
Date: July 9, 2019
Time: 4:00 PM
Location: Avanta Office — 444 Castro St Suite 200, Mountain View, CA 94041
Join Women in Automotive Technology (WAT) and a panel of industry experts for a conversation on HD mapping for autonomous vehicles at the Avanta Ventures office in Mountain View. Real-time HD maps combined with AV software, analytics, and vehicle sensors have become the vehicle's eyes and a critical component for autonomous vehicles.This panel will dive into the cutting edge mapping capabilities being developed today and real-world examples of how this level of refinement changes the driving capabilities for AVs.
You'll hear about situations that require HD mapping and how the fleets are starting to use this technology today.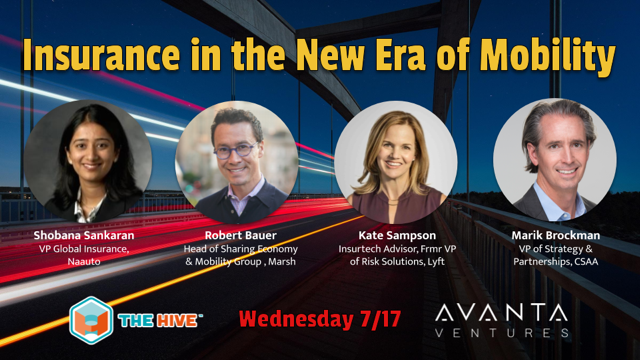 Date: July 17, 2019
Time: 6:00 PM
Location: Avanta Office — 444 Castro St Suite 200, Mountain View, CA 94041
Convergence of technologies, demographic and sociological factors has created a new era of mobility. Electric vehicles, shared mobility, autonomous vehicles, smart cities and others are primary contributors to creating better access to mobility, greater asset utilization, infrastructure efficiency and more fundamentally, improved safety.
As we get into an environment of mixed vehicle fleet, even before the industry reaches full autonomy, many tools can be leveraged to assist in safe driving — how does this impact the insurance industry? How does risk shift over time, with shifts in car ownership to sharing, from consumer to commercial lines of insurance and into new insurance products to enable autonomy and new forms of mobility? How is liability assigned in an autonomous world — between the vehicle owner, auto manufacturer, AI software company, telecommunications company, parts maker, government or others in the ecosystem?
Join us for a panel discussion to share perspectives on how these shifts will play out, implications for the insurance industry and how all parties in the ecosystem can collaborate in the future world of mobility.
Date: July 18, 2019
Time: 6:00 PM
Location: Avanta Office — 444 Castro St Suite 200, Mountain View, CA 94041
Join Avanta Ventures and Quesnay for a panel discussion with female-founded startups on trends transforming the insurance industry. Applications are now open for the 2019 Quesnay Female Founders in InsurTech competition, and we encourage all women-led startups with solutions for the insurance industry to apply by July 22.
Come meet us at one of our other upcoming events.