The extended warranty market is evolving. From selling consumers expensive defeatured warranties at the point of sale (POS) – with limited time to make a purchase decision – to better serving customer needs with aftermarket warranties that provide solid customer experiences and value, the change is happening right in front of us.
Traditional property and casualty (P&C) insurers are recognizing the customer synergy of warranty and insurance, as evidenced by Allstate's acquisition of VC-funded warranty provider SquareTrade for $1.4B. Allstate rebranded the company to Allstate Product Protection Plans and partnered with national retailers like Target, Walmart, and Costco. Through this partnership, retailers would offer a warranty product on their online checkout pages, with the advantage of the Allstate brand to provide consumers with the confidence that claims will be paid.
The current state of the extended warranty market
A product warranty is a type of guarantee that a manufacturer, or similar party, makes regarding the condition and longevity of its product. It also refers to the terms and situations in which repairs or exchanges will be made if the product does not function as originally described or intended. Extended warranties cover product failure post the expiry of the original manufacturer warranty and are generally offered by third parties unrelated to the original manufacturer.
Extended warranties are big business. According to Allied Market Research, the global extended warranty market is expected to reach $170B by 2027, growing at a compound annual growth rate (CAGR) of 7.4% since 2020. North America represents approximately 40% of the global extended warranty market and is expected to grow from $42B to $68B over the same period (a 7.1% CAGR). Internet search activity confirms the growing consumer interest in aftermarket extended warranties.
A key driver accelerating demand for extended warranties is the growth in consumer electronics consumption. The number of U.S. consumers who paid for an electronic device grew from 108M in 2017 to 138M in 2020 and is expected to reach 195M by 2025, representing a 7.6% CAGR from 2017 to 2025. In 2017, 62% of consumer electronics device sales were generated offline in a physical retail store, while 38% were generated online. COVID-19 has accelerated the shift from physical retail to e-commerce sales; in 2020, the split was nearly 50/50: 49% offline and 51% online. According to a study done by PwC, more than 80% of consumers conduct online research before buying electronic devices, and 94% of online shoppers search for the lowest price. While some consumers may self-insure their devices by saving enough money to repair or replace them, more than 40% of consumers cannot afford an unexpected expense of $400. Almost 70% have less than $1,000 in savings to handle an unexpected expense.
The rise in e-commerce drives the supply side of the extended warranty market. The ease of online price comparison has compressed retail margins, creating a need for online and brick-and-mortar merchants to augment revenue and boost profitability by selling extended warranties. Warranty sales contribute only 2% of Best Buy's total revenue but have contributed up to 60% of bottom-line profit in recent years.
Poor extended warranty customer experience opening the door for innovation
Despite high consumer demand for extended warranties, the actual extended warranty products offered at the POS deliver a poor customer experience and value proposition. Warranty pricing feels predatory and is high relative to the item value. Comparing extended warranty pricing at checkout is intentionally tricky as the consumer is forced to make a rapid decision. Purchasing multiple warranties for different items requires separate checkout processes. Consumers buying a plan at one retailer have a completely different experience buying from another retailer, even for the same product. Filing a claim for additional products or items purchased at various retailers requires the consumer to call different numbers and use other platforms. Keeping track of warranties is a manual process for consumers.
Whether brick and mortar retailers or online commerce sites, most warranties are currently sold at the POS. However, warranty shoppers are beginning to look for a better purchasing experience, more affordable pricing, and better warranty products via aftermarket warranty vendors. Aftermarket warranty innovators are emerging to address poor incumbent warranty product pricing and features by shedding the constraints of retailer requirements. A research report from IBISWorld states, "The growing prevalence of third-party warranty providers that offer services directly to consumers rather than via retailers is shifting the industry's profile away from policies sold in-store toward those sold online. Though most warranties are purchased at the time of the product's sale, more consumers are seeking inexpensive options online."
The warranty market competitive landscape
The warranty provider landscape primarily consists of companies with business models tied to retail POS distribution. Established warranty providers, such as Assurant and Asurion and emerging startup warranty providers, such as SquareTrade (acquired by Allstate), Clyde, and Extend, offer brick and mortar and online merchants a POS-integrated warranty solution. However, they fail to address consumers' real pain points – high warranty costs (up to 900% retail price markup), poor service (industry average Net Promoter Score (NPS) of 17 out of 100), inconvenience (automatic claim denial due to lost receipts), and lack of transparency as it relates to coverage and claims processes.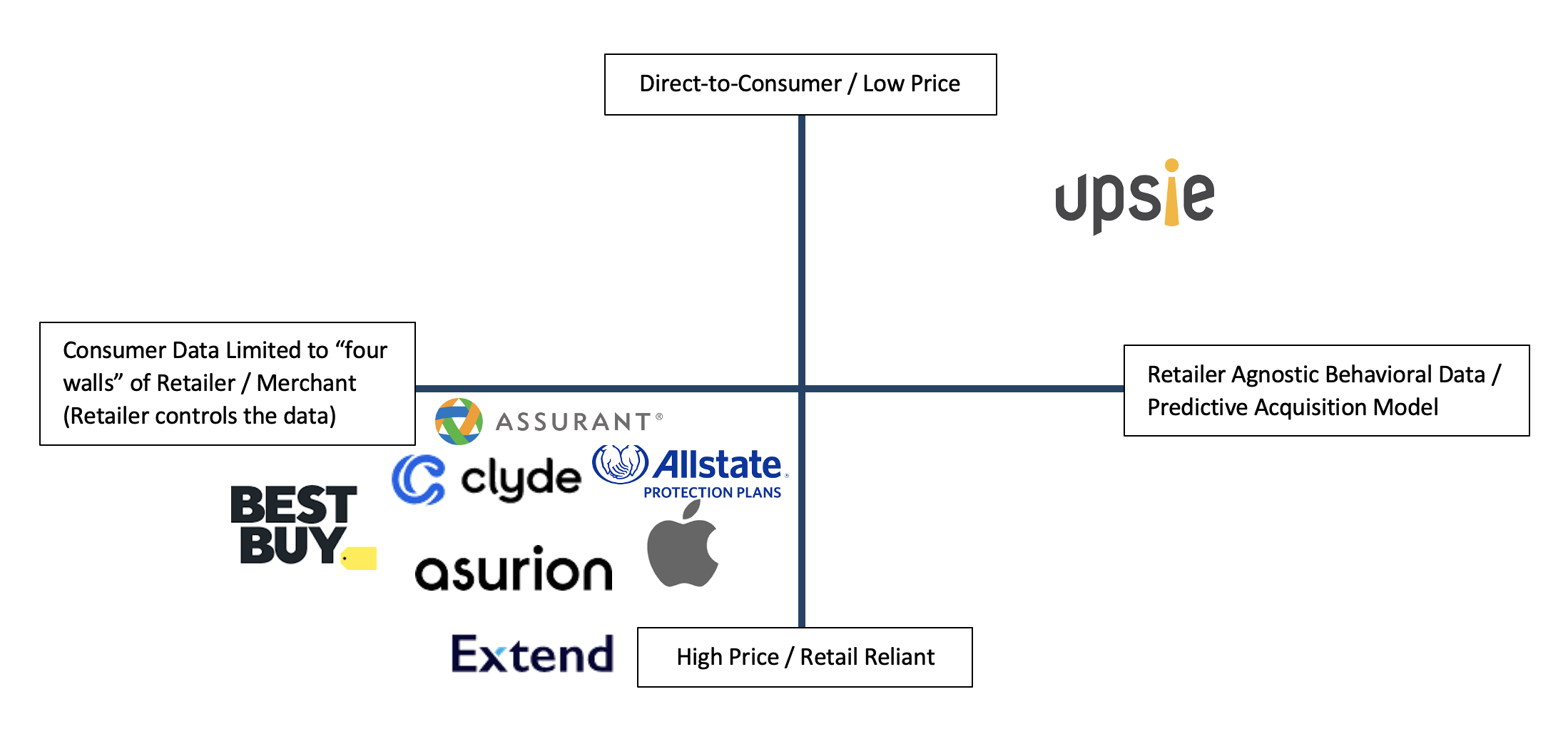 One such warranty innovator is Avanta Ventures portfolio company Upsie, an extended warranty provider with a differentiated distribution model. Upsie is an all-digital, web, and mobile direct-to-consumer (DTC) warranty provider offering extended product warranties and accidental damage protection for consumer products. In contrast to traditional POS warranty strategies, Upsie markets warranties during the product research phase of a consumer's device-purchasing journey. It leverages consumer purchasing-behavior data to optimize customer acquisition marketing strategies and display Upsie marketing content at the most opportune time in the purchasing cycle. Upsie's DTC business model obviates the need to pay a considerable revenue share to retailers, resulting in competitively advantaged gross margins, the ability to underprice retailers dependent on warranty revenue, and the opportunity to create better customer experiences than any single retailer can offer.
Upsie is first to market with a 100% DTC warranty solution offering the end consumer competitive prices, better service with high Net Promoter Scores, convenience (digital repository of all receipts), and transparency (upfront coverage and claims process education). Because Upsie doesn't pay a high revenue share to the device retailer that its POS-centric competitors do, they can offer better pricing, provide cross-retailer warranty coverage, enable the ability to purchase multiple warranties at once, and provide a single repository for a consumer's warranties.
Economic customer acquisition cost is the critical basis of competition in this space. To date, companies have been focusing on their retailer distribution channel for leverage, but at a very high revenue share cost. Avanta is betting that Upsie can succeed in disrupting the market with lower direct customer acquisition costs and concurrent better consumer experience. We have seen the team improve their customer acquisition performance with every turn of the crank. As their unit economics improve, they can increase their product's value proposition and experience for their consumers. This self-reinforcing dynamic bodes well for the company.
What do you think is in store for the future of the warranty market?