The circular economy is a topic rising on the insurance industry's sustainability agenda as it addresses climate change, a growing eco-conscious customer demographic, and a shifting risk landscape due to global warming. The Ellen MacArthur Foundation defines the circular economy as "a systems solution framework tackling global challenges like climate change, biodiversity loss, waste, and pollution." It focuses on sustainability's 3 Rs – reduce, reuse, and recycle.      

According to the U.S. Environmental Protection Agency, the circular economy aims to reduce material use, redesign materials, products, and services to be less resource-intensive and recapture waste to manufacture new materials and products.
This article will examine the leading trends driving the insurance industry to address the circular economy, several innovative startups with circular economy-focused value propositions, and why innovative insurance carriers should care about it.
The Circular Economy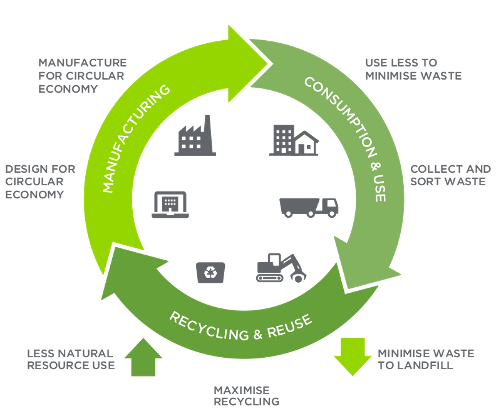 Leading trends driving the circular economy
Many products are produced linearly, where resources are "mined, made into products, and then become waste." This approach results in excess waste and greenhouse gas emissions. In contrast, producers who adopt the circular economy framework aim to reduce greenhouse gas emissions and waste from being produced. The Word Economic Forum projects that circular economy-focused adoption could help the economy unlock $1 trillion a year in untapped resource savings. Industries across the globe, including insurance, auto, and property, are paying attention to the circular economy because it is a growing movement tied to the broader risk of climate change worldwide. AXA XL's 2020 sustainability report stated that the carrier was focused on developing circular economy-focused products or services to reduce waste in the event of a client's loss, encourage sustainability practices among its clients, and enable materials to be recycled back into the supply chain. Zurich, a global property and casualty carrier based in Switzerland, also identified the circular economy as an essential topic among its internal and external stakeholders, especially as the climate-change dialogue expands beyond carbon emissions.
A rise in government policies and consortiums also is driving interest among corporations to pay attention to the circular economy. For example, the European Union will soon require select corporations to release environmental, social, and governance (ESG) reports; they will need to report on their circular economy-focused practices and partnerships, among other nonfinancial disclosures. Intergovernmental organizations, including the United Nations (UN), also formed the Net-Zero Insurance Alliance in July 2021 to help the insurance industry transition to a low-carbon economy. Current members comprise nearly 30 carriers worldwide, including AXA, Swiss Re, Allianz, Munich Re, Beazley, and Zurich. The Securities and Exchange Commission (SEC) has not finalized its ESG reporting requirements for public companies in the United States. In May 2022, the SEC proposed amendments to rules and reporting forms to "promote consistent, comparable, and reliable information for investors concerning funds' and advisers' incorporation of environmental, social, and governance (ESG) factors."
Moreover, consumers increasingly care about corporations' sustainability practices as they evaluate buying goods and services. While insurance is an intangible product, firms that care about the climate can win the hearts and minds of consumers. In 2020, a Deloitte survey with 10,000 Millennials and Gen Z worldwide – the younger generations that insurers hope to capture early – revealed that they ranked protecting the environment as a top concern. Additionally, 23% of consumer respondents from Deloitte's 2020 survey said they would switch to buying products from an organization that shares their values on environmental issues.
Innovation in the circular economy: Startups to watch and opportunities for insurers
Numerous startups and established firms across different sectors are starting to adopt circular economy models. A Stockholm-based insurtech, Omocom, explicitly promotes its microinsurance platform as "creating incentives and enabling a more circular economy." It offers microinsurance in 20 European markets across three primary categories – spaces, vehicles, and things. Consumers can buy insurance coverage for short-term rental properties, car rentals, insurance for vacation homes, rooms, storage spaces, parking spaces, caravan rentals between private individuals, and used electronics. Omocom partnered with W.R. Berkley to underwrite the policies; its early platform partners included two other startups with circular economy-focused business models: Hygglo and Tiptapp. Hygglo is a peer-to-peer rental platform, and Tiptapp is a platform for delivering purchasing or recycling items like furniture. Omocom's proprietary underwriting algorithm is constantly refined as new platforms sign on. It aims to increase the use of existing goods, a fundamental tenant of the circular economy. Omocom arguably offers lessons in innovative underwriting to carriers like CSAA as commercial insureds like OEMs and sharing economy startups embrace circular economy-focused business models.  
Redwood Materials, a U.S.-based climate tech startup co-founded by former Tesla Chief Technology Officer JB Straubel, embedded a circular economy strategy in its core operations. Redwood Material aims to recover, recycle, and reuse components from electric batteries harvested from autos, e-bikes, and other electronic devices like mobile phones, tablets, and laptops. It currently has partnerships with Panasonic, Ford, Toyota, Nissan, Volkswagen, Lyft, and others. Many auto OEMs are adopting circular economy models as they retool their plants to produce more EVs. The finite and expensive supply of rare minerals (lithium, nickel, cobalt, manganese, and graphite, for example) required to produce an electric battery remains at the fore of why automakers are adopting more circular economy-focused practices.
Opportunities for insurers
Companies across the insurance industry are in different stages of charting their goals and strategies around the circular economy. Carriers, especially those with operations in Europe, are proactively addressing the circular economy given the imminent government mandates around ESG reporting detailed above. AXA acknowledged the following: "Although we are not a consumer-goods manufacturer, our business as an insurer and our role as a global financial player enables us to have a real impact on this economic and energy transition. The circular economy offers an opportunity to insure new activities related to product disassembly, refurbishing, and recycling, as well as to imagine new kinds of insurance to promote the circular economy."
Additionally, adopting circular economy-focused practices across different industries will lead to changes in risk exposure. For example, the auto industry is retooling its assembly lines to produce more EVs. These changes to assembly line production and materials used to build the EVs could affect workers' compensation, product liability, and business interruption. As a result, insurers have an opportunity to diversify their product and service offerings to meet the need of insureds adopting circular economy-focused practices.
Many carriers also are addressing the circular economy to bolster their reputations as good stewards of the environment. Increasingly, consumer protection groups have put several insurance companies, including AIG and Travelers, on notice for underwriting high carbon-emitting firms like coal companies. This has negatively impacted those insurance companies' brands. Ultimately, carriers that fail to address climate change and the rising circular economy movement will be more susceptible to negative impacts on their brand and reputation among business partners and customers in the market. Those that act proactively and publicly could enhance their brand's perception in the market, foster customer loyalty, and improve employee retention, especially as Gen Z increasingly expect their employers to address climate change and promote sustainability.
The circular economy's implications for insurance
Insurance companies can play a central role in the circular economy as investors and risk managers. It will continue to be an important topic as the insurance industry addresses climate change, a shifting risk landscape, a growing eco-conscious customer demographic, and increasing government policies requiring corporations to release ESG reports with circular economy-focused disclosures. Innovative startups and carriers have a unique opportunity to be active champions in the dialogue about the circular economy.