Avanta Ventures' portfolio company, Upsie, provides a more affordable warranty option for electronic devices, appliances, and fitness equipment. By selling their warranties via the repair shop channel, Upsie offers an improved warranty experience and better claims service.
We recently sat down with Will Anderson, Upsie CEO, to ask him about his company's recent accomplishments, how he has built a culture of inclusivity, and his advice for aspiring founders.
Avanta Ventures (AV): Will, what problems is Upsie working to solve?

Will Anderson (WA): Upsie reduces financial and lifestyle disruptions when tech breaks by repairing or replacing devices. We do this by selling our extended warranties and connecting people to our local repair partners even if their devices don't have protection.

AV: Over the past year, what business accomplishment are you most proud of?

WA: Upsie has partnered with over 500 locally-owned repair businesses to help our customers when their tech breaks. We launched our Independent Repair Network (IRN) in August and are growing so that one of our partners will be just half an hour away from everyone in the country.

AV: What are you most excited about on the near horizon?

WA: We're hoping to partner with more insurance carriers, community financial institutions, and employee benefits companies to protect their members from the lifestyle and financial shock that results when the tech we rely on doesn't work properly.
AV: That sounds great. How can potential partners connect with you?

WA: They should email [email protected] to start a conversation with us.

AV: At the early stage of a company, building an inclusive culture is important. What are three things you've done to foster inclusivity at your company?

WA: Upsie was founded with a focus on grace for our customers, our teams and ourselves. We're often working with our customers in an extremely stressful time. Think about what it'd feel like to be without your phone for a day! We do our best to understand the stress in our customers and our stress at a high-growth startup in how we respond to and treat each other.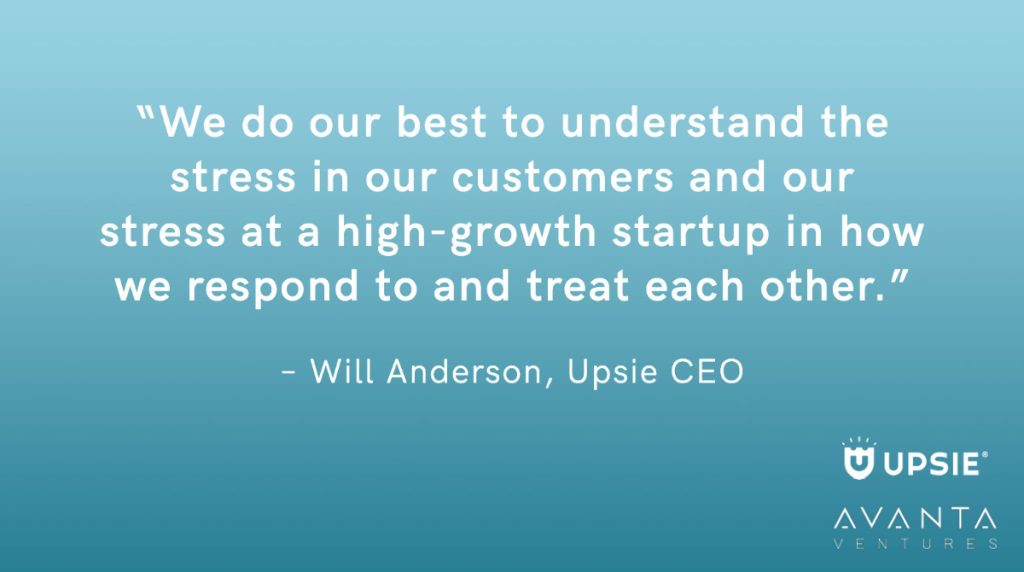 Secondly, we work very hard to explain the intent behind our questions or ideas. Explaining intent builds trust so much more quickly & deeply.

Finally, we've formed a culture committee made up of volunteers from each of our departments. It's not enough to intend to have a great culture. You must turn it into a core part of the company infrastructure, so it scales with every new hire.

AV: What advice would you give aspiring founders based on your journey to date?

WA: Trust and invest in the people who have already said yes and rigorously protect your culture. High performers who don't fit shouldn't be at your company.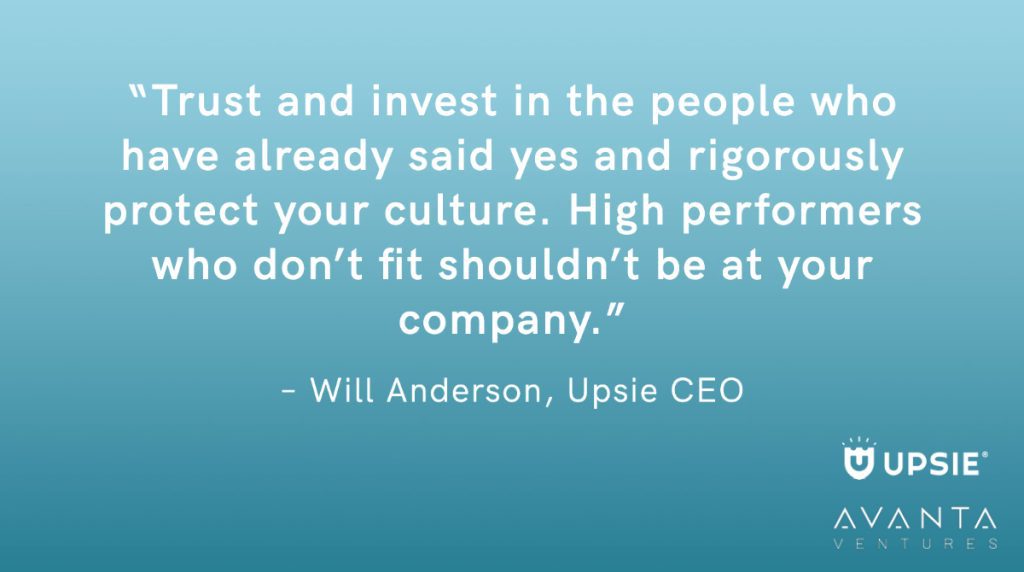 AV: Let's end with a fun one. What is your favorite city to visit and why?

WA: I love visiting NYC for the vibrancy, great food and talking with neighbors from everywhere in the world.
Thanks to Will Anderson for speaking with us; we are so excited to see how Upsie's future unfolds.
---
About Upise
Upsie was created to give customers a better warranty option. That's why we have lower prices, clear coverage, quick claims and the best service around.

About Avanta Ventures
Avanta Ventures is the venture capital arm of CSAA Insurance Group. We aim to reimagine the future of insurance and drive future growth for CSAA IG through our engagement and investment in ground-breaking startups and entrepreneurs.