Driven by strong tailwinds of a supportive regulatory environment, outsized government incentives and vehicle manufacturing industry consensus, the adoption of electric vehicles (EVs) is expected to accelerate dramatically over the next 15 years to account for nearly 85% of total vehicle sales in the United States.
This growth in EV adoption is also driving an increased focus on vehicle charging and more specifically on the rise in home utility bills post-EV purchase. Consumers are increasingly seeking broader home energy solutions to manage these costs, and in doing so,  are enabling new electrical storage and distribution platforms and business models to emerge at the intersection of homes, EVs and the utility grid. These platforms, in turn, have the potential to unlock new opportunities for insurers in the form of untapped distribution channels, novel datasets for risk management, and the ability to create an ecosystem of insurance-adjacent products and services for the home.
A tidal wave of electric vehicles adoption
Driven by a series of technological advances, infrastructure improvements and rising gas prices, EV adoption in the United States rose to more than 4.5% of total car sales in 2021. While this still represents only a small fraction of total vehicles sold today, the EV industry sits at a unique inflection point of mainstream adoption because of regulatory tailwinds, auto industry momentum and significant government spending. California and several other states have recently passed regulations banning the sale of all new internal combustion vehicles by 2035.
Auto OEMs from Ford to Toyota to Stellantis have committed to selling only EVs worldwide in a similar timeframe and are investing to dramatically alter their business processes, global supply chain, and production lines to achieve that goal. Additionally, the recently passed U.S. Infrastructure Bill allocates nearly $25B of government subsidies and spending to solve core EV infrastructure challenges around charging and manufacturing. The convergence of these macro forces is expected to dramatically accelerate U.S. EV adoption to nearly 85% of total vehicle sales over the next 15 years.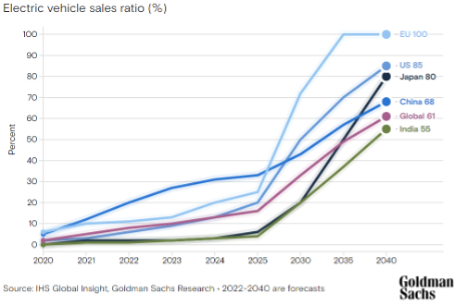 Electric vehicles adoption and the renewed focus on energy and utilities
With this growth in EV adoption over the next decade, charging – and more specifically the cost associated with it – will come into renewed focus for consumers. As it can take 8+ hours to reach a full charge for the average EV plugged into a Level 2 charger, the predominant charging setting is expected to be at home, followed secondarily by office-based charging. While utilization rates may shift as more offices install charging stations, current studies peg home charging at 80-90% of all charging sessions. The result of this charging dynamic, however, is a sharp increase in utility bills for consumers post-EV purchase. For example, an average Tesla Model 3 in San Francisco is expected to add $1,200 of annual additional home electricity costs. While these charging costs ultimately represent savings compared to fuel prices in similarly driven ICE (internal combustion engine) vehicles, these EV charging costs often represent the impetus for consumers to begin exploring solar panels and broader home electrification as a result.
Recent consumer research suggests EV drivers are 7x more likely to purchase solar panels. Large incentives from the recently passed Inflation Reduction Act, which provides consumers with tax credits of up to 30% of the cost of solar and electric heat pumps, are further accelerating consumer interest and adoption of electrification technologies.
EV adoption is enabling new electricity management platforms and business models
With EV adoption increasingly spurring consumers to focus on broader home energy management and driving increased demand from existing infrastructure, new electricity management platforms are required. Along with new business models, these platforms are beginning to emerge at the intersection of homes, EVs and the utility grid.
 One notable example can be seen in the enablement of virtual power plants (VPPs). During high energy-usage scenarios, such as 100°+ temperatures in California, when the demand for electricity surges with many households concurrently running their air conditioning units, outages and rolling blackouts are commonplace as the grid struggles to handle the increased load. VPPs are designed to provide flexibility during such high-demand events by leveraging distributed energy resources in the form of batteries that can be used as an elastic bi-directional energy supply for the grid. Although the idea is simple, VPPs have proven challenging to execute at scale due to the high costs of installing home battery systems and the resulting limited consumer uptake to date. With the adoption of EVs, however, this paradigm is shifting rapidly as the vehicle's battery and internal systems increasingly become capable of vehicle-to-grid (V2G) charging. For example, Google Nest, Ford, SunRun and others recently launched the VP3 Virtual Power Plant Partnership to accelerate VPP development and demand. Startups Fermata Energy (vehicle-to-everything grid provider), Revel (electric mobility company) and NineDot (clean energy developer) have become the first V2G program connected to the New York power grid. Other startups, such as Anode Labs and its React Network, are taking a direct-to-consumer approach by aggregating EVs to create their own VPP.
Another emerging business model unlocked by EV adoption can be seen in new platforms that enable consumers to manage their home EV charging more efficiently. Increasingly, startups such as Weavegrid, Optiwatt and FlexCharging provide consumers with an easy way to optimize and automate home EV charging according to individual preferences, usage patterns and energy costs. Rather than charging consumers to provide this service, these companies leverage their connections with utilities and the energy market to realize revenues. By controlling when and how EVs draw energy from the grid, these platforms can smooth out charging curves to shift demand away from EV charging peaks (e.g., when drivers return home from work in the evening and right before they sleep at night), thereby enabling utilities to save on power-generation costs while also relieving stress from aging distribution infrastructure. Numerous utilities nationwide have implemented EV charging management programs leveraging these platforms and have begun paying a per-vehicle or per-month subscription fee.
What all of this means for the future of insurance
The incoming wave of EV adoption and the resulting new platforms and business models enabled at the intersection of homes, EVs and the grid could unlock new opportunities across home and auto insurance. Firstly, these platforms could provide insurers with a near-term, untapped distribution channel. By partnering with these companies, insurers could reach a captive audience of vehicle and property owners to distribute existing home and auto insurance lines.
Such a partnership could also provide insurers access to novel data sets for new insurance product development and risk management. With a real-time view of home occupancy and usage and EV charging patterns, these platforms could enable insurers to create more customized usage-based insurance products. Occupancy data, for example, could be leveraged to underwrite homeowners policies specifically tailored for those who work from home and who could respond to loss events more expediently. Finally, partnerships with such companies could provide insurers a unique opportunity to create a broader suite and ecosystem of products and services around the home.
Ultimately, partnerships with companies at this unique intersection-enabled EV adoption could both increase core insurance premiums and unlock new revenue streams with complementary products and services built around the home ecosystem.