Meet Avanta Ventures managing partner, Sanjiv Parikh. Sanjiv drives venture capital investments, incubation/acceleration, and corporate development. He has 25+ years of driving growth for corporations across the entire spectrum of growth and strategic investment initiatives. His background in engineering, turnarounds, and operating experience has led him to help build businesses from the ground up.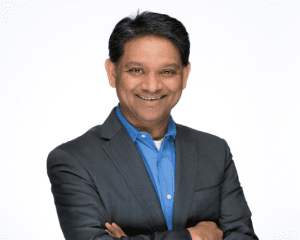 We recently spoke to him about his career path, why he loves working with startups, and what you can find him doing on the weekends:
Tell us a little bit about your career path.
I started my career as an engineer, working on President Reagan's Star Wars program which involved helping design the Kinetic Kill Vehicle for the Strategic Defense Initiative. I then had the opportunity to join a merchant bank that was just getting started doing turnarounds. We bought undermanaged, undervalued companies and went in as operating managers to turn them around. During my nine-year tenure there, I learned how companies get into pitfalls and how to overcome them.
I always knew I wanted to work with technology companies. I was a technologist after all. I wanted to leverage my operational experience and affinity for technology to be part of a startup that I could help shape from the beginning.
I was part of a young company called Rightworks. We built that company, raised over $30 million–mostly from Sequoia Capital, and which ultimately sold to Internet Capital Group for $1.25 billion.
Since then, I've been a corporate venture capitalist, and I've managed the corporate venture arms of over a dozen Fortune 500 companies throughout my career. I've also helped start a few other companies and turnaround and sell a few companies along the way during my career.
I have learned how large corporations can help make or break a young company and how startups can drive innovation and new sources of revenue for large enterprises. Corporations can assist startups with distribution channels, the customers, products, and even where to focus; and startups can inform enterprises about new technologies, new business models and novel approaches to products and services.
What makes Avanta Ventures unique in the venture capital space?
Avanta Ventures is part and parcel of CSAA Insurance Group's growth strategy. At Avanta Ventures, we're trying to identify the next-generation of innovation that can be leveraged, or partnered with, to drive growth for the enterprise. Our connection to CSAA Insurance Group is critical to our success and the resources we provide to the startup ecosystem. As part of the AAA ecosystem, we have access to over 53 million members. That is pretty phenomenal audience for a startup to be able to leverage and engage.
We understand not only what the corporation needs, but because we've also been operating entrepreneurs we understand what entrepreneurs' need, what they go through, and what keeps them up at night. And, most importantly, how to help navigate through those challenges.
I've been there myself — having to put people's payrolls and salaries on personal credit cards, and do what's needed to get funded and move things forward. Our team knows how to help entrepreneurs go-to-market, drive sales, build viable products/services, and recruit talent.
One of the other key things that make us unique is that we are essentially a startup entity ourselves. Albeit, we have resources, unlike some startups, but we're a startup in many respects. We are building an organization that can drive growth for a larger company while dealing with similar issues startups have.
What types of startups is Avanta Ventures interested in?
We prefer to join at a reasonably early stage (seed and Series A) whereby working together we can add value to set the startup on the accelerated growth trajectory.
What do you enjoy most about your role at Avanta Ventures?
This is the best job I've ever had. I get to focus on the corporate growth of a large institution in an environment where the industry that it's in is changing significantly. Insurance is being disrupted by young companies that are still being formed. We get to help these startups and shape the direction that they're going in, for the benefit of both.
Tell us about the current state of insurance and the trends impacting its future.
Insurance is a different type of business because the value proposition of insurance is the promise that when something goes wrong the insurance company will stand behind as a bulwark. There is no other business model, or business where you can't foresee what your losses may be. You write a premium, and that becomes your revenue. You have no idea how much in claims you'll incur in any given year.
Fundamentally, insurance today is still about protecting an underlying physical asset, at least in property and casualty, which is where CSAA Insurance Group operates. In that vein, property and casualty insurance, from the perspective of protecting assets, has not changed… in probably 500 years! Yes, we've gotten better at the actuarial science, the technology and the underlying approach but it fundamentally remains about protecting a physical asset. In the next five to ten years, that notion is being turned upside down. Why shouldn't property and casual insurance follow the individual rather than the assets? We now have the technology at our fingertips that can enable that. We're seeing a tectonic shift in how insurance is being deployed and thought about. That presents an opportunity for CSAA Insurance Group to be the leader in models and approaches to providing safety, security and peace of mind.
Other opportunities include the massive trends that are shaping our entire society. We're moving into the sharing economy and gig workers. The changes that are happening on a global, societal level impact insurance. Insurance is a fundamental driver of how our modern economy operates. Without insurance, we wouldn't have the stability in our financial systems that we do today. Insurance has to evolve, along with other institutions, to maintain a stable society.
What are the technologies you see as the catalysts for that evolution?
One sector is certainly insurtech. Insurance is becoming part of our digital lives, and the way digitization of our society dictates many of the processes of how we do things. Insurtech companies are shifting insurance models along with that.
One of the underlying technologies that cuts across all of that is artificial intelligence (AI). Real-time analytics and third-party databases can manage and merge disparate data with existing insurance data to create new approaches to insurance products, services and pricing
Another major pillar is mobility and transportation. With the advent of autonomous vehicles, we may no longer be owning our vehicles. If that's the case, how does auto insurance change? Factoring in ride-sharing, car-sharing and vehicle fleets, does this transition from personal insurance to commercial insurance? The implications of these questions are not trivial and represent transformation of several industries.
Additionally, there once used to be a notion of solely physical travel. Nowadays our travel begins with an online presence. You are no longer going through travel agents, but rather travel websites. Throughout the planning process, how do we enable you to be who you are and protect you along the way? How do we give you the peace of mind of safety and security in this digital world?
Another focus area is creating new insurance adjacent experiences for our customers. In this day and age, we have significant challenges around cybersecurity and identity management, and how can enable individuals as an insurance industry? As society shifts around digitization, we have to understand how we protect people in this new digital world. Cybersecurity and identity management become crucial; as does the convergence of financial services and insurance.
What advice would you give to startups?
Sometimes startups think they have the right solution, but they're not looking out and seeing who else is doing something similar. The fact of the matter is ideas are not defensible, lots of people have similar ideas: it's the execution that's going to differentiate. In that context, it behooves a startup to look at the competition. And not just the big players, but who are the other startups that are trying to solve a similar problem.
Thanks for your time, Sanjiv! Our coffee's almost gone, so let's wrap things up with a few quick-fire questions…
Favorite activity outside of work?
Hanging out with my family. Sailing.
What's one item on your desk right now?
Reading glasses.
Parting words?
At Avanta Ventures, we're here because we passionate about the value that we bring to startups and the value that they bring to help drive growth for CSAA Insurance Group.