Increasing life expectancy and seniors' preference to remain in their existing homes have accelerated demand for AgeTech solutions enabling seniors to be more independent, healthy, and financially secure as they age. For example, recent innovative financial solutions have addressed fraud protection, bill paying, retirement planning/education, investing, and monthly paycheck generation for seniors.
As Boomers look to transfer trillions of dollars of accumulated wealth to younger generations over the next two decades, they seek to manage their finances better. There is a lack of integrated product offerings to help seniors better manage personal wealth, manage their estates and wills, prevent fraud, protect privacy, and provide at-home care. Caregivers, payers and providers, and advisors are the control points within the AgeTech space who will accelerate the adoption of AgeTech solutions. Financial wellness within AgeTech is garnering significant venture interest and maybe a prime starting point for P&C insurance carriers to enter the space.

Trends fueling AgeTech growth
The senior demographic is having an increasingly influential economic impact. The need for innovative solutions addressing senior loneliness, financial security, and caregiver shortage is driving growth in the AgeTech market. According to the United States Census Bureau's population clock, the estimated population of people aged 50 and over in the United States is approximately 131 million. Baby Boomers represent about 65% of that population, with the remaining classified as Generation X. The 50+ age cohort contributes roughly $8.3T to the U.S. economy yearly, or 40% of GDP. By 2030, the 50+ population is projected to spend $108B annually on tech products alone.
Emerging startups in financial wellness
Venture capital funding in the AgeTech sector was $2.5B over the past five years. Financial wellness startups have historically struggled due to a lack of scalable business models, inaccessible proprietary data, and inefficient distribution channels. However, with advancements in data analytics and machine learning from various data sources, including wearables, voice interfaces, financial planning, home automation, and social-engagement platforms, some AgeTech VC-funded startups have begun to find product market fit and productive distribution partners with aligned incentives. This has been facilitated by favorable laws and increased stakeholder awareness across the value chain. Some of these startups are building a holistic and integrated platform to scale AgeTech businesses that brings together caregivers, seniors, and channel partners while considering factors such as trust, cost sensitivity, ease of use, risk mitigation, and education levels.
New senior financial wellness startups are providing disruptive solutions to address the needs of Baby Boomers and Generation X in areas such as retirement solutions, financial management, fraud and privacy protection, long-term care insurance, estate planning, and in-home care.
Financial Wellness Space of the AgeTech Market:
Landscape and overview of five different categories of emerging products and services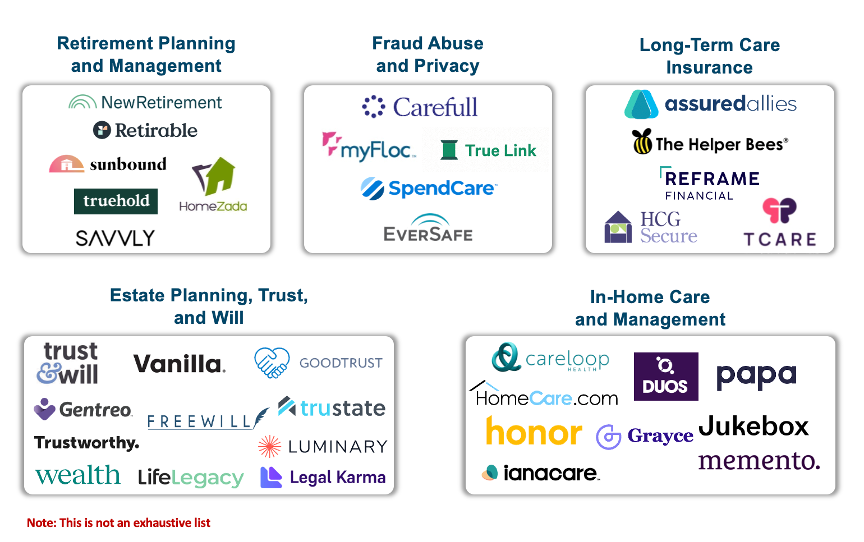 Retirement Planning and Management – Baby Boomers control half of all U.S. household wealth, equating to $71.6T. They have the most retirement savings, averaging over $200K, and other income sources, including social security, home equity, and inheritances. The ripple effects of retirement, decumulation, and wealth distribution impact seniors looking for a holistic retirement plan offering that includes financial advice, income management, insurance, lending, and other financial management products. Startups such as Retirable, Savvly, and NewRetirement provide income management and financial-advice solutions focusing on building relationships and trust. NewRetirement announced a partnership with Nationwide Insurance to provide retirement planning modeling services as a value-add adjunct to Nationwide's retirement plan business. Other startups, such as TrueHold and HomeZada, are helping seniors and their families better manage their existing homes (often their largest asset) to maximize the home's value in the future. They help track and manage home-repair projects for tax, insurance, and resale purposes, which is helpful during the ownership transition.
Fraud Abuse and Privacy – Fraud targeting seniors causes losses of more than $100B annually in the United States. Fraud can range from deceptive phone calls, impersonation, unpaid or double-paid bills, fake government schemes, home repair, and investment scams. Companies such as Carefull and Eversafe tackle these issues by analyzing checking, savings and credit card accounts and flagging issues. The users of the platforms are both seniors and their caregivers, who receive alerts if any fraud is detected. The platforms use data, machine learning, and insights to allow seniors to gradually share control of their financial assets with their trusted circle of caregivers over time. They partner with financial planners and advisors, credit unions, care-management platforms, and insurers to protect seniors from financial abuse and build relationships with the next generation for new business opportunities.
Carefull has a partnership with Nationwide, where the carrier markets Carefull's fraud monitoring, family communication, and identity theft products to their policyholders via a dedicated agent channel.
Long-Term Care Insurance – It is estimated that 70% of Baby Boomers above 65 will need long-term care, with associated spending of more than $400B annually. The average cost of long-term care is around $5,000 per month, and most seniors are rejected if they have any chronic conditions – which Medicare does not pay for. Long-term care aims to support aging at home by offering non-healthcare services such as bathing, dressing, grooming, using the toilet, eating, and moving around. Insurtechs such as Assured Allies, The Helper Bees, Reframe Financial, and HCG are leveraging machine learning and predictive analytics to offer Insurance and aging programs to reduce the risk of disability, often by partnering with a large in-home care-management provider. These companies often rely on the family support model and have strategic partnerships with life insurers, estate plans, care coordination platforms, financial advisors, fraud monitoring platforms, affinity groups, and benefit providers. Their main goal is to extend the reach of insurance coverage and build trust with their customers first, beyond the focus on risk selection and loss ratios, which often leads to cross-selling other retirement and financial products.
CNA Insurance partnered with insurtech The Helper Bees to provide holistic care while insured policyholders age at home. The platform connects aging seniors with care specialists to provide care options to delay the need for a long-term care facility. CNA benefits from reduced claims costs and data capture to predict future claims patterns.
Estate Planning, Will, and Trust – Roughly 67% of Americans have no estate plans, leaving wealth distribution as a burden for family members after they pass. Estate planning in the United States is a $180B antiquated industry characterized by manual processes, lack of technology, and expensive legal fees. COVID-19 increased the demand for estate planning, wills, and trusts. Families are seeing it as a continuation of financial planning and a foundation to build multigenerational wealth. Insurers typically offer estate planning on request via legal referral to lawyers. Still, they are shifting toward offering these services at trigger moments, such as when purchasing a home or a car. Startups such as Trust and Will, Vanilla, Trustworthy and others use technology to simplify estate-plan creation and the customization of legal documents that comply with individual state and county guidelines. These companies often leverage channel distribution partnerships with insurers, banks, financial advisors, and benefits providers.
In-Home Care and Management – More than 90% of seniors over 65 prefer to remain in their homes versus a nursing home, yet most lack tech-enabled solutions that provide in-home care and services to keep them thriving. According to a 2021 AARP survey, 34% of seniors said they needed to modify their homes to stay there safely. There is a distinct customer need for an integrated senior-care platform that provides caregivers and companions to arrange transportation, schedule food deliveries, help with home repair, and manage medical care. Companies such as Duo, Papa and Honor leverage a combination of technology and human advisors to connect the elderly and their caretakers to a network of service providers to help with these non-medical tasks and provide companionship. Another class of in-home service providers helps to prevent falling (25% of seniors over 65 fall every year). Startups in this space (e.g., Jukebox) continue to innovate and leverage computer vision, wearables with embedded sensors, and Wi-Fi-sensing to understand seniors' movements and predict or alert caregivers when warranted. These underlying technologies enable the monitoring and managing of a range of senior-care needs beyond fall monitoring.
What does the future hold?
There is a shift in adults' preference to stay at home as they age. Seniors are interested in holistic financial-wellness platforms (e.g., home equity and retirement plans layered with estate planning for home/property distribution to heirs, with protection against fraud and abuse) and tech-enabled care management. These trends represent a growth opportunity for P&C insurers that have customer relationships with the senior demographic and have developed an ability to sell complex and regulated products to them. Auto and home insurers and agents hold multiple touchpoints with their customers during renewal, claims, or coverage changes, which presents an opportunity for agents to offer additional AgeTech services.
As the AgeTech startup ecosystem further develops, partnership opportunities with P&C insurers will emerge through pilots, commercial engagement and investments.